Ready to fight any fire challenge with our range of FB5, FB10, Low Expansion Foam Branch, Stand Post Type Water/Cum Foam Monitor, Mobile Foam Unit, Foam Making Branch Pipe etc.
IntroductionM/s Indian Fire Fighting Technology
was established in
2012
as manufacturing firm of
Fire Fighting Equipment
(Specialist in foam equipment & water cum foam monitors) against various market requirement of that time. Since then the company has been contributing effectively towards up-gradation of production facilities and improving the product quality in line with the national & international standards. We always believe in new research and development in the field of fire fighting considering aspect of global warming. It has been always our motto to produce quality product to instill confidence in our customer. Because of our efforts, we enjoy an excellent reputation in market for our products. We also manufacture Aqua Foam Water Monitor, Mobile Foam Unit, Foam Making Branch Pipe and other Fire Fighting Equipment as per the customer specifications.
We are working for the last 54 years+ and have been supplying our product to almost all departments. We hope that our customer would continue to repose faith in us and give their unflinching support and patronage. In addition to that, we have also established ourselves for providing
Installation services of Fire Fighting System, Sprinklers & Smoke Detectors.
Our company is seeking strategic long term partners worldwide, always insists on Exist for quality, develop for technology, serve for prestige and manage for benefit, and we will try our best to supply our customer high quality, together with competitive price and professional services.
Quality

Our team ensures they do stringent quality checks on each and every product. Only after all the products are passed by the quality experts, we release them to the packaging and delivery department. To ensure safety of our end users as well as our clients, our team of quality experts checks our products in the worst conditions possible, and only after assuring that our Aqua Foam Water Monitor, Mobile Foam Unit, Foam Making Branch Pipe and other products stand tall on underlined qualities, we pass them to the next stage for packaging and delivery:

Why Us?

We are one of the leading manufacturers when it comes to the domain of fabricating firefighting tools and equipment. With the passage of time, we have improvised our skills, and made our products better. We have the knack to elevate our skills as well as make products which are durable, reliable and have extended lives. Some of our very unique specialties are:
Timely Delivery: We have tied up with various top notch international logistics companies which ensure timely delivery of products.
Wide Array: With the vast product range that we have, we are able to win the hearts of our clients and deliver them with the greatest products. Our product range includes FB10 Foam Making Branch Pipe, 63mm Stand Post Type Foam Monitor With Aqua Nozzle, Fire Hydrant Water Monitor, FB5 Fire Hydrant Water Monitor, etc.
Transparency Deals: We believe in doing transparent deals with our clients which helps us retain their trust as well as acquire new clients.
Modes of Payment: We accept both forms of payment, online as well as offline, which ensures hassle free payment methods for our clients.
Click For Enlarged View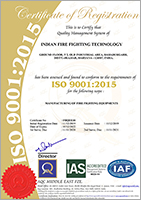 Get in touch with us